With kind permission of the author and publisher we have added the introductory chapter of Rita Raley's book 'Tactical Media' (University of Minnesota Press, 2009) to the Tactical Media Files resource.
You can find it here.
The introduction is included as a pdf document and includes the table of contents, cover, and bibliographic data.
Below some more information about the book by the publisher: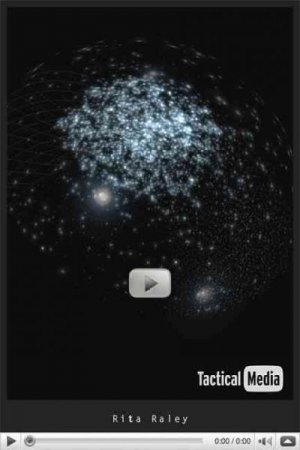 University of Minnesota Press: "In Tactical Media, Rita Raley provides a critical exploration of the new media art activism that has emerged out of, and in direct response to, postindustrialism and neoliberal globalization. Through close readings of projects by the DoEAT group, the Critical Art Ensemble, Electronic Civil Disobedience, and other tactical media groups, she articulates their divergent methods and goals and locates a virtuosity that is also boldly political. Contemporary models of resistance and dissent, she finds, mimic the decentralized and virtual operations of global capital and the post-9/11 security state to exploit and undermine the system from within.
Emphasizing the profound shift from strategy to tactics that informs new media art-activism, Raley assesses the efficacy of its symbolic performances, gamings, visualizations, and hacks. With its cogent analyses of new media art and its social impact, Tactical Media makes a timely and much needed contribution to wider debates about political activism, contemporary art, and digital technology."
www.upress.umn.edu/book-division/books/tactical-media
Rita Raley is Associate Professor of English, with courtesy appointments in Film and Media Studies, Comparative Literature, and Global Studies. Her primary research interests lie at the intersection of digital media and humanist inquiry, with a particular emphasis on cultural critique, artistic practices, and language (codework, machine translation, electronic literature, and electronic English).
Rita Raley's faculty page:
www.english.ucsb.edu/people-detail.asp?PersonID=138